FHI Festive Charity Treat 2015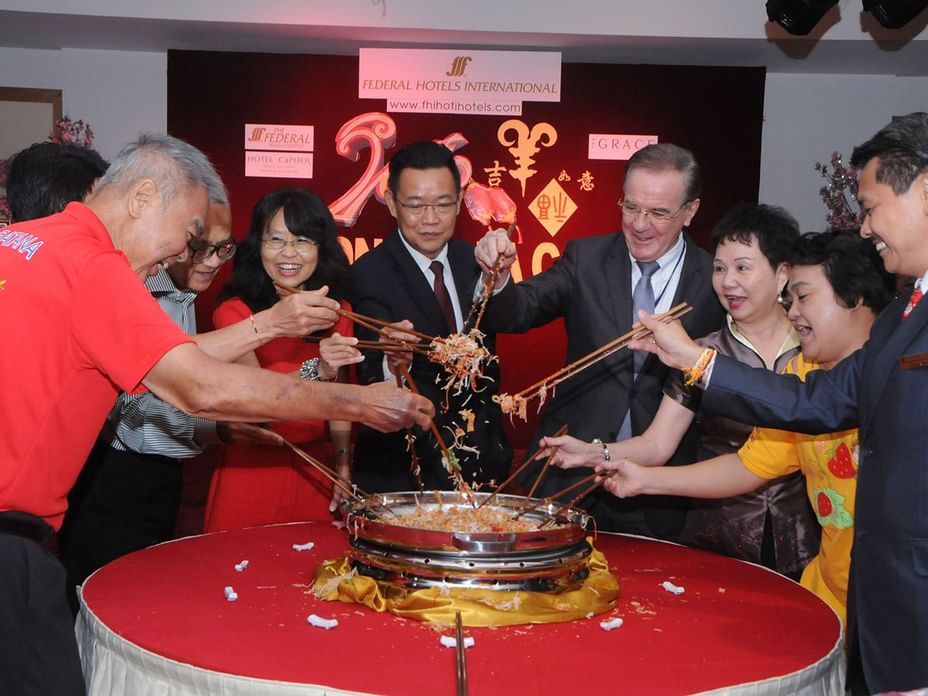 Federal Hotels International (FHI) Group of Hotels in Kuala Lumpur namely The Federal Kuala Lumpur, and Hotel Capitol Kuala Lumpur welcome the auspicious lunar leap year of the Water Dragon. Our FHI Group Gong Xi Fa Cai! Happy Chap Goh Mei! Festive Charity Get together is an annual Festive charity event jointly organized by the FHI Group of Hotels, and this year will be held on Tuesday, 3 March 2015 at the new Ballroom 1 of The Federal Kuala Lumpur in conjunction with the auspicious year of the Wooden Goat commencing 19 February 2015. The Year of the Wooden Goat is the eighth year in the cycle of the Heavenly Branches. The 15th day of the first lunar month (or Chap Goh Mei in Hokkien), is also known as Chinese Valentine's Day. To hive up the atmosphere, the old folks and children will be captivated by the grand welcome of the impressive Lion dance performance by Ti-Ratana Children Welfare Society Lion Dance troupe at the prosperity door of The Federal Kuala Lumpur. Enter the prosperity door of the hotel with complete festive imperial setting - an Imperial Garden Pavilion with magnificent décor and blossoms inspired by the Imperial Chinese courtyard setting with two majestic Yang (羊).
Ms Ooi Lee Ping, Director of Group Marketing, Sales and Business Development of Federal Hotels International said "2015 is an auspicious Year of the Wood Goat or Sheep or Ram. Whatever one may call it, they all share the same Chinese character of "Yang" which is a symbol of blessing, good fortune and represents all good things. We believe that this Lunar New Year will bring an abundance of Good Luck, Good Fortune, Good Health, Happiness & Harmony to everyone. So let us come together to celebrate our beloved tradition of Loh Hei! Loh Hei! to Lo Sang, to toss higher & higher for Prosperity, Good Luck, Good Fortune, Good Health, an Abundance of Wealth, Joy, Happiness, Peace & Harmony always. As part of our continuous FHI Group sharing and caring community commitments, this is our 13th consecutive year that Federal Hotels International together with our FHI Hotels The Federal Kuala Lumpur and Hotel Capitol Kuala Lumpur, are organizing this Gong Xi Fa Cai & Chap Goh Mei Festive Charity Treat, and we hope that this gift from our hearts will continue to bring more smiles, joy and happiness all round as there is no greater joy than be able to warm the hearts, spread good cheer and bring a smile to the old folks and children. Traditionally Chinese New Year is a time for family reunion, a joyous occasion for family get together and Open House for family, relatives, neighbours, friends, colleagues and partners. We hope to share this memorable joyous occasion once again together with some 110 old folks and children from these three homes namely Ti-Ratana Welfare Society, Rumah Charis and Pertubuhan Kebajikan Siri Jayanti. Most importantly, we want them to know that we care and remember them during this joyous festive season We are very happy indeed that the Ti-Ratana Lion Dance Troupe ranging from 7 years old to 18 years old are joining us again to officially open up our Prosperity Door, to welcome these old folks and children as well as showcasing their spectacular acrobatic lion dance followed by the spectacular 24-seasons drum performance and a Lunar New Year Dance Performance too! Hope everyone will enjoy the wonderful energetic Drum performance by the very talented team from Ti-Ratana symbolizing "Enter the Auspicious Lunar Chinese New Year of the Wood Goat, Ram or Sheep. We have also organized three Carnival fun fair team games such as such as the Wheel of Fortune, Properity Ring Toss and Pin Pong Toss of Abundance for the old folks and children to participate plus a fun Selfie and Wefie contest too!"
"The old folks and children will be treated to a sumptuous Chinese New Year Prosperity Lunch inclusive Yee Sangand traditional Chinese New Year favourites. To celebrate this auspicious Happy Lunar New Year and festive spirit of joy and togetherness, the Management & Staff from Federal Hotels International & FHI Group of Hotels will toss the Prosperity Lo Sang together with the old folks and children. Everyone will participate with their chopsticks in hand, to toss and mix the colourful vegetable salad comprising all the ingredients together, with lots of good wishes shouted loudly amidst smiles, laughter and spirit of togetherness, as the ingredients are tossed as high as possible, the higher you toss the greater your good fortune & good luck for the auspicious New Year. We want the old folks and children to remember and enjoy this special day." said Mr Simon Leong, General Manager of The Federal Kuala Lumpur and Hotel Capitol Kuala Lumpur.
Our Team of Chefs embraced the Lunar New Year of the Wood Goat with a specially crafted Chinese New Year Charity Treat menu featuring all the auspicious dishes for the great reunion dinner with the old folks and children to savour. Each prosperity dish symbolizes a good meaning such as fish for abundance, prawn for joy and laugher; chicken for happiness. The eight-course prosperous menu includes the Salmon Yee Sang例牌三文鱼捞生, Cream of Winter with Crabmeat and clams cubes 鲍粒蟹肉冬茸美; special salted chicken drumstick 惹味梅香咸鸡脾; twin varieties of prawn in pineapple bowl 旺耒鸳鸯鲜草虾; steamed whole fish with minced ginger香葱姜葺蒸时鱼; braised beancurd puff with baby cabbages上汤生筋煨奶白; bean noodles with minced meat and choy poh菜莆肉碎捞豆签; and glutinous rice ball and ginkgo with soy milk银杏豆浆皇汤丸.
A tradition in Malaysia, Yee Sang is a must to have item for reunion dinner. Yee Sang comprising salmon fish, whiteradish, carrot, preserved winter melon, fresh and pickled ginger, pomelo, coriander leaf, crispy crackers, chopped roasted peanuts, sesame seeds, picked onion slides and papaya slides. To dress the Yee Sang, sweet sour plum sauce with a drizzle of oil, lime juice, five spice powder and a dash of white pepper will be used to pour over the Yee Sang. Each and every of this exquisite ingredients has a special meaning or a symbol of good meaning i.e. crackers represents Happiness, peanut and sesame seeds signify Harvest, oil represents Wealth, pamelo stands for Good Luck. The concoction of red, orange, green, gold, white and brown colour of the Yee Sang makes the dish a colourful feast for everyone to savour.
A gift of mandarin oranges, groundnut and Chinese New Year cookies is a tradition during Chinese New Year festive visits to families, relatives and friends. We will also be presenting a special Gong Xi Fa Cai festive hampers to all three Homes. Every old folk and child will also receive a special gift as well as Ang Pows. Our FHI Team has decorated the newly renovated Ballroom I at The Federal Kuala Lumpur in Lunar New Year auspicious festive colours of red and gold denoting good luck, good fortune and prosperity and with kumquat, pussy willow and many more. Each brings a special meaning, for example the kumquat is a symbol of good luck, prosperity & wealth whilst the pussy willow is a symbol of longevity and red lantern symbolized good fortune.
The Management & Staff of Federal Hotels International and our FHI Group of Hotels wish everyone Gong Xi Fa Cai, Good Luck, Good Health, Good Fortune, Wealth, Peace, Harmony, Prosperity & Happiness Always & Happy Chap Goh Meh!