Dine with the Stars - Spreading Ramadhan cheers by FHI together with Aquila Emas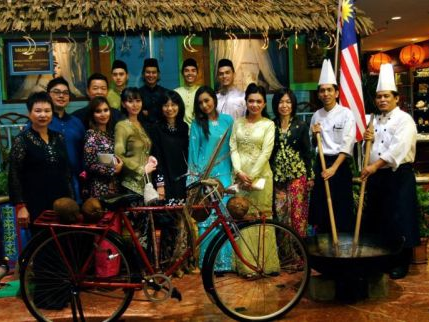 In the spirit of the holy month of Ramadhan, Federal Hotels International (FHI) and FHI Group of Hotels in Kuala Lumpur namely The Federal Kuala Lumpur and Hotel Capitol Kuala Lumpur together with Aquila Emas jointly organized a Majlis Berbuka Puasa for the children from Rumah Titian Kaseh at the Banquet Hall of The Federal Kuala Lumpur on Tuesday, 2 August 2011 to celebrate and share with the children the traditions of Ramadan.
Over 80 children were treated on an exquisite sumptuous Citrarasa Malaysia buffet spread of tantalizing local dishes from all corners of Malaysia. The Children have had a fun filled time meeting and dining together with the Stars from Aquila Emas namely Tony Eusoff, Adrea Abdullah, Zed Zaidi, Ainul Aishah, Diana Johor, Ixora Chern, Juliana Ibrahim, Zizan Nin, Tia Ibrahim, Rizal Ayub and Amar Delon. Our Federal Hotel's team of Chefs specially prepared appetizing local favourites such as satay with condiment, beef rendang, ayam goreng berempah, ikan masak kari bendi, cabbage goring kunyit, chicken rice, roti jala with durian coconut gravy & chicken curry, roti john, fried kwey teow as well as udang masak manis, egg in tomato sauce and chicken kurma from Favourite Dishes from the Tunku's Kitchen or Hidangan Kegemaran Dari Dapur Tunku, most importantly, this legacy cookbook is our Federal Hotels International and The Federal Kuala Lumpur's tribute dedicated to our Malaysia's beloved first Prime Minister or our Father of Independence, Y.T.M. Tunku Abdul Rahman. Other equally delectable dishes include roast lamb with bukhari rice, roast beef with black pepper sauce, salmon cube glaced with honey sauce, spaghetti with tomato herb sauce, fried butter fish fillet, fried chicken wing including mouth-watering desserts such as kuih ubi, kuih lapis, kuih seri muka with kaya, cupcakes, assortment of cakes, bread pudding, local fresh fruits, agar-agar, Ais Kacang with ice cream, the tarik, Kacang Putih, candies and more!
Ms Ooi Lee Ping, Director of Marketing, Regional Sales & Business Development of Federal Hotels Internatonal said "The holy month of Ramadhan is a time for tradition, a time of sharing and giving. We are most happy to work in strategic partnership with Aquila Emas to organize this meaningful berbuka puasa with the children of Rumah Jagaan Titian Kaseh. Meeting the children, talking to them and getting to know them is incredibly rewarding and truly promoted the spirit of Ramadan. We wanted the children to know that we care and remember them during this special festive season. There is no greater joy than seeing smiles on the faces of the children. We are indeed delighted to have all the celebrities and the team from Aquila Emas to join us to spread this festive cheer and promoting togetherness. This festive Charity event is part of our FHI Group's continuous Sharing & Caring Community Commitments, and it gives us the opportunity to share our warm gracious Malaysian Hospitality with the children. August is also our Merdeka month celebration, and Malaysia will celebrate its 54th Independence Day as The Federal KL celebrates its 54thbirthday, being Kuala Lumpur's first international class hotel opened just three days before Merdeka Day on 31 August 1957, to house foreign dignitaries coming to witness the historic celebration. In the spirit of Merdeka and One Malaysia, we join hands this evening together with the children, and led by the Celebrities & Stars of Aquila Emas to sing our beloved Jalur Gemilang song, to wave the Jalur Gemilang, our national pride as well as sing Merdeka songs in conjunction with this Merdekamonth and Malaysia Day celebration on 16 September. This is to help instill the Merdeka spirit among the younger generation, to cherish the peace, prosperity and harmony we are so blessed with."
"This festive charity treat is part of our corporate social responsibility commitment. We have always encourage our teams to help make a difference to those in need. It is a joy to bring everyone together to break fast with the children and the celebrities. Our Federal Hotels International & Hotel Management Team will present the Raya Hampers to the Home, and will distribute raya packets together with Aquila Emas to the children of Rumah Jagaan Titian Kaseh. The children will also be receiving a Mug sponsored by Metrojaya." said Mr Simon Leong, General Manager of The Federal Kuala Lumpur.
In the spirit of the holy month of Ramadhan, the Management and Staff of Federal Hotels International, The Federal Kuala Lumpur and Hotel Capitol Kuala Lumpur together with the Aquila Team & Celebrities wish all our Muslim friends Selamat Berbuka Puasa and Selamat Bersahur.